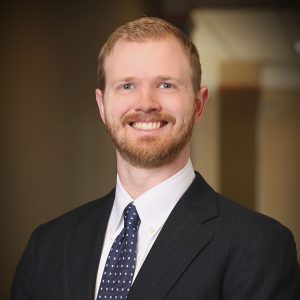 Isaiah M. Richie
Email:
Early Career
Attorney Isaiah Richie graduated with a degree in business administration, with a major in accounting and a minor in economics, from West Virginia University and a Juris Doctor Degree from Arizona State University Sandra Day O'Connor School of Law. Prior to and while in law school, Isaiah interned with two small town law firms in West Virginia and Virginia, the Arizona U.S. Attorney's Office, and the Maricopa County Attorney's Office as a prosecutor.  After law school, Isaiah clerked with judges at the Arizona Court of Appeals and the Colorado Court of Appeals. Before joining Schloemer Law Firm in 2018, he practiced in insurance subrogation and litigation in Hartford, Wisconsin.
Current Career
Isaiah concentrates his practice on estate planning, corporate and business law, real estate and property law, guardianship law, and municipal law.
He moved to the outskirts of West Bend in 2017 with his wife, KayCee, and their children, and he is enjoying becoming involved with the local community.
Practice Philosophy
I take my role as a "counselor" quite seriously in that I do not see my job as telling my clients what to do. Rather, I see my role as advising my clients what they can or cannot do and the effect each decision will have. I aim to understand a client's objectives, find efficient solutions, and work together with the client and other involved parties to provide the most efficient and effective solution.
Areas of Practice
Education
• West Virginia University, B.A. in Business Administration, major in Accounting and minor in Economics (2010); cum laude
• West Virginia University, graduate level certificate program in fraud accounting and forensic investigation (2011)
• Arizona State University Sandra Day O'Connor School of Law, J.D. (2015); magna cum laude
Professional and Community Involvement
• State Bar of Wisconsin
• Admitted to practice in the United States District Court in the Eastern and Western Districts of Wisconsin
• Bend City Church Worship Team
• Board Member and President of the Executive Committee of Washington County Economic Development Corporation
• West Bend Area Chamber of Commerce, Leadership West Bend, Class of 2019
• Board Member of Seed of Hope Center
• Board Member of the Threshold Foundation
• Board Member of the Washington County Historical Society Foundation